The Lone Red Flag
June 15th, 2021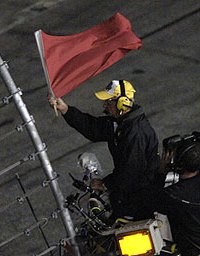 Joe thought this was going to be dumb.
Usually, when Bleacher Report columnists force a subject, their Bucs ignorance sticks out like a sore thumb.
So when Kristopher Knox typed a piece choosing a red flag for each team, Joe fully expected something totally uninformed — like Knox suggesting something predictable and knee-jerk like "secondary" or "offensive line" or "backup quarterback."
(Oh wait, backup quarterback is Ira's schtick. 🙂
But Knox had a very interesting if not accurate take. He believes the Bucs' red flag is the surgically-repaired knee of park-violating, home-invading, NFLPA-ignoring, down-forgetting, handshake-stiffing, jet-ski-losing, biscuit-baking, tequila-shooting, smartphone-phobic, waffle-grilling, trophy-throwing, roller-coaster-scared, numbers-rules-peeved, Bucs-Super-Bowl-winning quarterback Tom Brady.
And Joe thinks Knox is dead-on here.
While knee injuries have become routine in the NFL and Brady was a full participant in minicamp, there's no telling exactly how his knee will respond over the course of a full 17-game season. Brady will be 44 years old when the season starts, and if his knee begins to go, so too could the Buccaneers' season.
No, Joe is not stealing Ira's second-favorite subject (Ira's favorite is backup running backs catching screen passes in the flat). If Brady goes down, the Bucs are screwed.
Yeah, yeah, yeah, Nick Foles and Jeff Hostettler. OK, fine, you found two exceptions. Whoop-tee-do. Does anyone really believe the Bucs are favorites to repeat if Brady goes down?
If you say "yes," then Joe wants to see your ticket from your favorite gambling house/app that you put $5,000 down on the Bucs to repeat after Brady goes on injured reserve.
Joe is convinced the Bucs are screwed if Brady goes down, no matter who the backup is.
So, yeah, Joe can see Knox's angle. The surgically-repaired knee of a 44-year old quarterback should be a concern. And it may be the only concern the Bucs have.