"That's The Guy I Aspire To Be Like"
June 2nd, 2021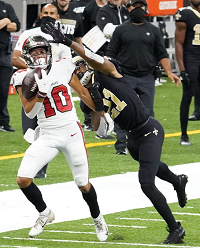 Ironic words from Scotty Miller.
The Bucs' speedy deep threat is steaming with confidence after breaking through last season as a big-time player and arguably the favorite deep target of the greatest quarterback in the history of the NFL.
That kind of success and a Super Bowl ring is enough to get the attention of former Bucs cornerback Aqib Talib, host of the Catchin' Fades podcast.
Miller explained to Talib that studies and yearns to be the next … wait for it … DeSean Jackson, the former Buccaneer receiver yet to be indicted for thieving countless millions of Team Glazer loot.
"That's the guy I aspire to be like," Miller said of Jackson. "I think I can do similar things that he can. So I love watching his film and trying to learn different things that he does. Because he's a smaller guy that plays big and can run by people."
Yes, Joe realizes Jackson is one the great receivers in NFL history. Only 40 men have more receiving yards, and Jackson career is continuing with the Rams.
One irony of Miller's comment is that the draft pick the Bucs got for unloading Jackson to the Eagles is the one they used to draft Miller in 2019. And then there's the fact that Jackson was a cancerous presence on a Bucs roster — and a coaching staff — that wasn't strong enough to handle him.
Of course, Miller is Jackson without the ego and attitude, even if he told Aqib Talib that he's likely faster than D.K. Metcalf and Tyreek Hill.
Millers said he ran a 10.5-second 100-meter dash in high school when he was just 140 pounds. Miller said he's sure he can run at least 10 seconds flat now and would love to see anyone in the NFL challenge him to a race.