Ryan Leaf Details Where Tom Brady Can Improve
June 12th, 2021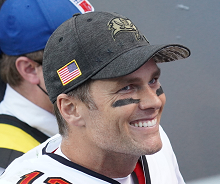 Talking this week about how pleased he is with his knee following late-February surgery, Tom Brady made it very clear that he'll be able to do things this season that he couldn't do in 2020.
So what are they?
Joe can't wait to find out.
Former Chargers and Cowboys quarterback Ryan Leaf thinks he knows where Brady will improve. Leaf seems to have moved past his long list of legal troubles to become a rising media star. He talked about Brady this week while co-hosting on SiriusXM NFL Radio.
"I was shocked at some of his deep out routes that were undercut and picked off," Leaf said.

"That interested me a little bit. I thought maybe arm strength was part of it. I can now attribute that to some lower-body strength — not being able to step into a throw and really kind of get on top of it and line it in there. I feel like he feels better about it, And those passes that you saw that were kind of late and behind on out-breaking routes, they may look a little different this year because he's got more stability and more foundation under him when he's throwing those types of passes."
Man, just imagine a more confident and powerful Brady — with Antonio Brown for a full season and a much more mature and seasoned Scotty Miller complementing the rest of the Bucs' elite pass catchers.