Rondé Barber's Resume
June 19th, 2021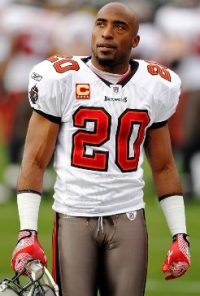 How about Rondé Barber highlights for your early Saturday morning?
Pretty soon, Pro Football Hall of Fame selectors will be casting votes to determine the 2022 list of Hall candidates.
JoeBucsFan.com columnist Ira Kaufman will be in Canton this summer for the induction of the 2021 class that includes John Lynch. Perhaps he can bend some elbows to help change minds about Barber?
Sadly, a lot of folks believe Barber was a "system player." Joe thinks this is absolutely a crock of crap.
Most players are system players. They play as part of a system. What, guys are supposed to freelance all the time … to please who, exactly?
Joe Montana was a system quarterback. He was perfect for Bill Walsh's west coast offense. Does anyone believe Montana would have been half the player he was if he played for Don Coryell, who constantly threw the ball long? Or for Bill Parcells, who was a ground-and-pound coach?
Hell, Lawrence Taylor was a system player. If he didn't play outside linebacker and had Parcells and Bill Belicheat not ordered him to blitz all the time, LT would not have been anywhere near the all-time star he became.
So Joe believes labeling Barber a "system player" is an absolute load.
Barber was a Hall of Fame finalist last year, meaning he among the 15 finalists "in the room." That's where all of the selectors gather the weekend of the Super Bowl to hammer out the final five who get in. So that was a good sign, as it gave Ira and other selectors a chance to make their pitch for Barber.
Often when a guy was a finalist but misses out on induction, it proves to be a precursor for future induction.
▪️ 5x Pro Bowler
▪️ 3x All Pro
▪️ HOF All-2000s Team
▪️ Super Bowl Champion@rondebarber was ALL WORLD for the @Buccaneers and maybe the Hall of Fame should take a closer look at him. 🧐

via @nflthrowbackpic.twitter.com/7RzAbUElui

— NFLonCBS (@NFLonCBS) June 18, 2021