Return Of Bucco Bruce
June 25th, 2021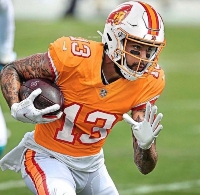 Yesterday when Bucs COO Brian Ford had a Zoom conference call to discuss the training camp plans for fans next month, he was asked about alternative uniforms. And not the all-pewter things.
Ford explained the team held back on throwbacks because the NFL had a rule (which Team Glazer has lobbied to have overturned) that says teams can only use one helmet in a full season.
Ford said it wasn't a matter of if the rule is changed, it's when. Joe has a hunch Ford knew more than he let on. Shortly after Ford's press conference, the NFL announced teams could use two different helmets in a season beginning in 2022.
What does this mean? It means Bucco Bruce is coming back shortly.
Yes, expect the beloved creamsicles to return next year. And how cool will it be to see Tom Brady wearing one?
Joe cannot wait. Well, on second thought, yeah, Joe can. There's another Super Bowl to be won for the 2021 season. Even without the creamsicles.