Mike Evans: Bucs Must Carry Themselves As Champs
June 10th, 2021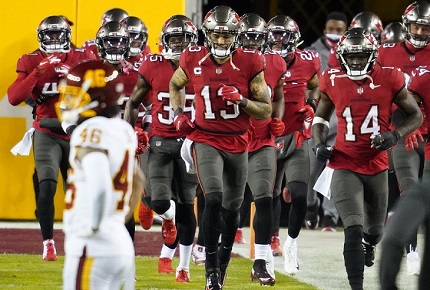 There's a right way to handle entering a season as the defending world champion Buccaneers.
The greatest receiver in Bucs history was very clear about that today after minicamp practice.
Mike Evans acknowledged Tampa Bay's struggles through much of last season but insisted that the standard created during the late-season run to glory is what must be maintained and duplicated.
And it starts now without room to waver.
"We're Super Bowl champions. We gotta carry [ourselves] as that," Evans said.

"Just keep working hard. I mean our talent is the best in the league. I've been saying that since last year. We just have to stay injury-free and just keep working. Don't get complacent and just keep working."
The clichés sound good, but Joe knows Evans believes them and is speaking from the heart.
Joe views all the chatter about staying focused in various ways. It really is possible to be too focused, work too hard and get burned out. It's up to Bucco Bruce Arians to manage this 17-game season — coming off a season of no spring-practices or preseason games — with just the right touch to keep his players performing on gamedays with their hair on fire.
That is no easy task and, thankfully, Arians has Brady to work alongside to keep the Bucs from peaking too soon and or burning out.
Joe hates typing this. Hates it. But maybe, just maybe, the Bucs might benefit from an early-season loss to quickly obliterate any kind of Super Bowl hangover they might be feeling.
When Brady won back-to-back Super Bowls in the 2004 season. His Patriots opened 6-0 before getting mauled by the Steelers in Pittsburgh. They lost just one game the rest of the way, a one-point defeat to the Dolphins.