Leonard Fournette: "Every Day, I'm Like, 'Damn, I Really Got Cut.'"
June 28th, 2021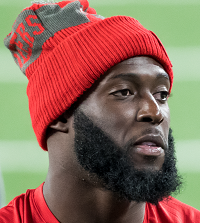 Happy ending aside, it was a rough football year for Leonard "Playoff Lenny" Fournette.
After growing up as a stud high school player, being dominant in college and then getting drafted No. 4 overall and having a stellar rookie season, Fournette set an extremely high bar for himself, so he explained last week to BSPN's Jalen & Jacoby show.
But then Fournette got cut by the Jaguars on Aug. 31 — after Jacksonville couldn't trade him. It left him feeling like he was punched in the gut.
"I think when I got cut, it kind of just set me back to what I used to do," Fournette said. "You know, I had to get my rhythm back. It was bothering me all through the season when I got signed by the Buccaneers. Every day, I'm like, 'Damn, I really got cut.' So it was bothering me, too. So I had to just get my mind right, get adjusted. I was still new here, too."
Joe appreciates Fournette's candor. It almost reminds Joe of how stunned former guard Logan Mankins was when he was traded from the Belicheats to the Bucs in August of 2014. It took Mankins a full year to adjust. After a sketchy 2014 season, Mankins bounced back and was in the Pro Bowl a year later.
Joe is expecting big things from Fournette this season assuming, as Fournette says, he can "keep his mind right."
---
TAMPA TWO rolls on through the offseason with legendary Derrick Brooks and Sage Ira Kaufman, the venerable JoeBucsFan.com columnist. Today's discussion is on rings and running backs.
The brilliance is presented by Converged Technology Professionals. More fun from The Identity Tampa Bay & Joe.