Jaydon Mickens In The Receivers Mix
June 8th, 2021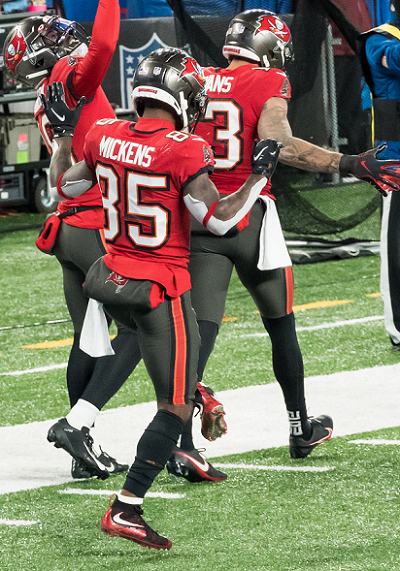 Last season, Bucs receiver/returner Jaydon Mickens was targeted eight times when the Bucs faced the Giants.
He was never thrown to again by Tom Brady.
The Bucs drafted fourth-round speedster receiver/returner Jaelon Darden in April, adding him to the deepest and strongest wide receivers corps in the NFL. But today, after the first mandatory minicamp practice, Bucco Bruce Arians was lauding Mickens while discussing how well Tom Brady has mastered his command and reads within the offense.
"[Brady] hit some really good third- and fourth-options to Jaydon Mickens today. You know, that's not a guy he works with all the time, but he was spot on in that stuff," Arians said. "All that verbiage isn't new now. You know, so he can spit it out. He knows what it means. He knows where they're going to be. Really pleased with the receivers today. Their conditioning and their route-spacing was outstanding."
Something led the Bucs to believe Mickens was worthy of being a massive part of the gameplan against the Giants. It was one of the great surprises of the season.
Yes, he was booted from the offense in a hurry, just like Justin Watson was, but Mickens is still on the roster. So perhaps he's one more hungry young set of hands emerging with a shot at a minor role in the offense.