Fuzzy Math From Bucco Bruce Arians
June 3rd, 2021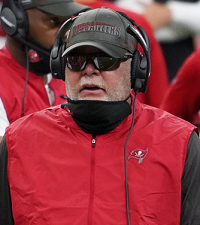 Man, Bucco Bruce Arians was all over the place yesterday on the subject of who he wants and expects to show up for voluntary spring practices.
First, Arians made it clear earlier this week that not enough players are showing up. Rich Eisen, host of The Rich Eisen Show, asked Arians for clarification yesterday.
And that's where it got a little weird.
"Basically, what I told the 28 or 31 guys that played the most time last year, you know 80 percent of the time, I don't need you," Arians began. "Don't need you here. I need you in shape. I need you to do all your Zoom meetings and refresh, you know, go look at all the mistakes and stuff and I won't need you here physically until [mandatory] minicamp. The rest of the guys, we've missed three years of young player development, with the pandemic, last year's rookies, the year before guys didn't make it in. So we need this rookie-development time and young-player-development time. So if you're a new player, or if you were on the practice squad, or were 20 percent or less last year, you're here practicing."
Hmm, so what about Scotty Miller, Cameron Brate, Mike Edwards, O.J. Howard, Leonard Fournette and Rakeem Nuñez-Roches, for example. Those are a mix of part-time players, and/or young players newer to the Arians regime at One Buc Palace. Joe's not seeing them at voluntary OTAs?
There are others in that category.
Jamel Dean (just another example) is a guy who hasn't played 80 percent of snaps and, per Arians, has missed years of offseason player development. Where is he?
Again, there are other names that don't match the Arians criteria he outlined to Eisen, when you look at the no-shows to Bucs voluntary minicamp.
It's all a little fuzzy to Joe, and Joe still can't understand why guys like Tyler Johnson and Ke'Shawn Vaughn aren't pulling double-session kind of days at One Buc Palace and joining Tom Brady's private workouts.