Donovan Smith Is Focused On The Pool
June 18th, 2021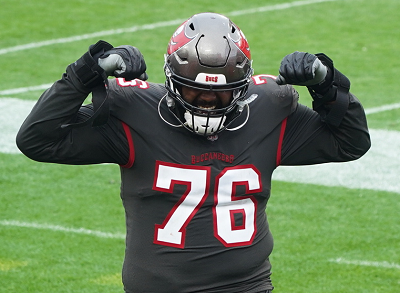 Joe once talked to the late Vincent Jackson about how Jackson liked to find a new sport to explore every offseason — something to enhance his training and push his body and mind in new directions.
It seems Donovan Smith has a similar mindset.
The Bucs' Super Bowl left tackle didn't know how to swim or tread water until very recently. His new regimen of swimming lessons are daily at 7 p.m. for 60 to 90 minutes at his home, Smith told Buccaneers.com.
"I'm working on my breaststroke right now," Smith explained, noting he's also working on flips in the pool to change direction.
Thank his girlfriend, Smith said. They talked about Smith maybe firing up lessons and she went ahead and booked them, and now Smith is driven to succeed.
This nugget was revealed during a Bucs group chat of offensive linemen, and Tristan Wirfs seemed stunned that Smith hadn't known how to swim.
No word on whether Smith is learning to jump out of the pool.