Byron Leftwich Has More Experience Than You Think
June 30th, 2021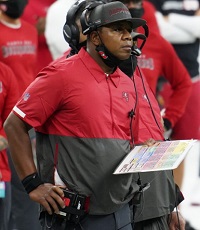 Bucs offensive coordinator Byron Leftwich retired in 2012 following three seasons as Steelers backup quarterback. And then he emerged from the golf course as a 2016 coaching intern with the Arizona Cardinals.
But if you ask Leftwich, that's not really when his coaching career began.
Speaking to NFL.com earlier this year, Leftwich explained that he gave no thought to coaching when he left the game or the opportunities coaching represented.
Simply put, Leftwich said he wasn't one of those NFL players thinking about his next career — even though he already was impressing as an unofficial coach.
"As a player, you see yourself as a player. You know, I never saw myself as a coach," Leftwich began. "But when I look back on it, the last half of my career, that's really what I was doing. That's really what I was doing to the young Emmanuel Sanders, to the young Antonio Brown, having to be a different set of eyes and ears for Ben Roethlisberger. So it was kind of what I was doing, really, as a backup quarterback because you see everything. You see things more; sometimes the starter is so focused on getting the job done.

"You'll see things that he's not probably seeing just because you're not in that mindset. So you're able to able to help more, maybe to reach out more, able to get people in position more for the starting quarterbacks so they can have a true understanding of how he's going to react to different concepts."
Joe has to think Leftwich's resume helped lure Tom Brady.
Of course, Brady needed to know whose hip he'd be attached to all season. And he likely felt a ton of comfort knowing it was a guy who not only played the position as a starter but was an active force around a Hall of Fame quarterback in Roethlisberger.