"Brand" Him A Special Teamer
June 1st, 2021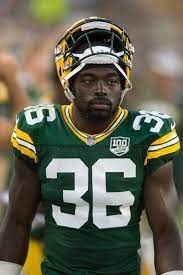 New Bucs safety Raven Greene talked to Joe and local media today after the sparsely attended spring practice session at One Buc Palace.
A Bucs depth/special teams signing after the NFL Draft, Greene had played well in Green Bay when he wasn't nursing injuries — a lot of them — including last season.
Greene emphasized that special teams is part of his "brand" and that's a big reason he made the Packers' roster after being undrafted out of James Madison University in 2018.
Joe asked Greene, since he was on the Packers last season, for his impressions of the Bucs defense in the NFC Championship game. Interestingly, Green punted on the question, noting he'd had have to look at the film.
Greene spent his college career with Bucs guard Aaron Stinnie, he said, and the two are very tight. He added that he has trained often in Tampa and spent a lot of COVID "quarantine" time with Stinnie last year.
Versatility is Greene's big focus right now, he said, noting he wants to become as valuable as possible to the Bucs and that he still has plenty to learn as a fourth-year pro.