August Keys
June 23rd, 2021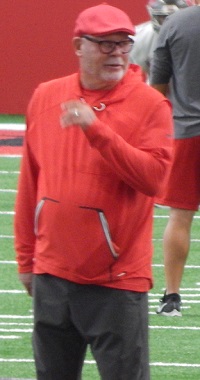 It feels like Bucs training camp will hit its peak on August 19 and get more into regular-season mode a few days later.
Just like in 2019, the Bucs will host a team for joint practices leading up to a preseason game together at The Licht House. Two years ago it was a lousy Dolphins team, but this year it's the powerful Tennessee Titans that just added Julio Jones.
The Bucs will practice twice against Tennessee leading up to their Saturday night, Aug. 21, preseason game. That's Game 2 of the new three-game preseason. (Bucs fans should see Game 3 reserved for future mattress movers, grad students and rental car agents.) No schedule is out yet, but typically the Bucs and Titans would practice on the Wednesday and Thursday prior to having Friday off.
Bucco Bruce Arians says the joint practices may be the most valuable summer days when it comes to assessing personnel and growing as a team.
Speaking on SiriusXM NFL Radio, former Pro Bowl and Super Bowl offensive lineman David Diehl did a great job explaining why.
"These are way more beneficial than any preseason game that you play because you can get into exact football situations that you don't really truly get into when you're in a preseason game," Diehl began. "You can do two-minute drills, you can do 1-on-1 pass protection, you can have blitz periods. The competition level is so much better. And more importantly what you get out of it in regards to preparing for a regular NFL season, and the speed and the competitiveness of it, it's something that you can't duplicate and that preseason games don't duplicating. … I think this is the best way to get yourself ready for a full grind of what's going to be this year, a 17-game season."
Joe always laughs/cries at the thought of joint practices; they make Joe remember how Lovie Smith didn't believe in them at all and refused to participate.
This year, Joe thinks the joint sessions will be extra important.
Since they likely will lead up to the final preseason game for starters, Joe thinks if Arians loves what he sees that week, the Bucs might literally switch gears afterwards and turn the stretch run of training camp into very gentle but efficient work.
Arians will lean heavily toward going very easy on players if training camp is sharp for the first weeks, Joe believes. Arians absolutely will do anything not to lose games this year because his team is tired.