"We Weren't Leaving That Locker Room Until We Made A Fuc*'n Commitment"
May 21st, 2021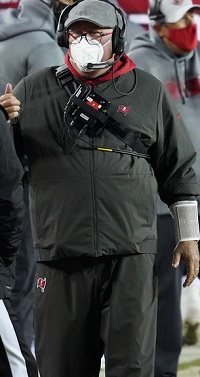 There were many turning points on the Bucs' glorious road to glory last season.
One sometimes overlooked is the sloppy, abysmal, is-this-2017 mess turned in by the Bucs offense on a Thursday night in October.
The penalties were mounting all through the season to that point, seemingly culminating in a five-penalty drive that soon after had Tom Brady screaming at center Ryan Jensen and other offensive linemen before a national TV audience.
Speaking to Green Light with Chris Long, Bucco Bruce Arians said he was grateful to Brady and for the freakout, and he acknowledged a postgame turning point of the season.
"We preach hard, 'Bucs don't beat Bucs.' And for the first year, we notoriously gave games away beating ourselves," Arians began, referring to the 2019 season.

"I think you need to learn how to win. Tom, obviously, brought that in. And I loved when he snapped out on the sidelines. Because he beat me to it, then I didn't have to go as crazy as I normally would. But after the game, we weren't leaving that locker room until we made a f**k'n commitment that this shi* is stopping. And we went from the most penalized team to the least penalized team the rest of the year. And it's just a commitment by the players. We just had to stop it."
Long, the retired DE with two Super Bowl rings, noted that screaming Brady is a huge tool for coaches, so their voices doesn't get burned out — and tuned out — blasting players for sloppy play.
Arians agreed. And so does Joe.
Joe's eager to see how soon it take Brady to fire up this season, now that he's completely comfortable with his teammates and aware of their tendencies. Joe expects a Brady blowup in training camp, the minute he smells anyone coasting and looking like he's still under a Super Bowl glow.
Enjoy today's new Ira Kaufman Podcast.