"Still A Fragile Situation"
May 20th, 2021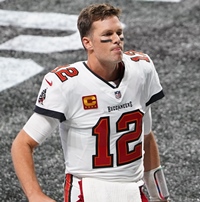 Arguably the most cerebral, original-take former NFL player working in the media offered an intriguing opinion on the Buccaneers' quarterback situation.
Joe's referring to three-time Super Bowl champion Ed McCaffrey, the retired receiver and dad of Panthers superstar Chris McCaffrey. The elder McCaffrey is often a co-host on SiriusXM NFL Radio.
Studying the Bucs' post-draft news conferences, McCaffrey claimed he could see the uneasiness in Bucco Bruce Arians answering a question about Tom Brady's buy-in to the pick of QB Kyle Trask in Round 2.
''He couldn't get out of that question quick enough," McCaffrey said of Arians.

"Because even though he knows he talked about it [with Brady] and he knows Tom bought in, and he knows they texted during the draft and they over-communicated, it's still a fragile situation when you draft a quarterback behind a future Hall of Fame quarterback. … Tom Brady was a backup once, too.

"And once you're the starter, you're the most competitive guy on the planet. You never wany anyone threatening your position. Even if you're that confident, there's always that element of , 'Who's my competition?' Because really, even though you're friends, any other quarterback on your team is the competition. And so it's a delicate situation."
Joe agrees with McCaffrey but thinks he is taking it all a step too far.
There is no "fragile" situation in 2021, but that could change in a hurry next season, especially if Trask is good enough (hopefully!!) to beat out Blaine Gabbert for a backup gig this season.
Every NFL season is about the right-now. If Brady takes a half-step backwards through 2021, and Trask looks like he has a real future, at that point it becomes a delicate situation.
Brady is still human, which was sort of McCaffrey's whole point.