Mark Dominik Gives Jason Licht A "C+" Grade
May 29th, 2021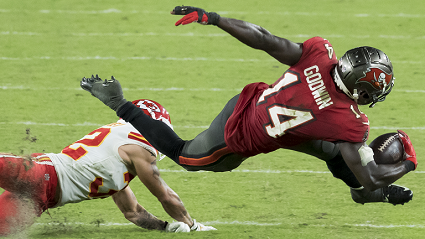 The former Buccaneers general manager has graded a draft class of the man who succeeded him.
Joe's talking about retired rock star GM Mark Dominik (2009-2013). He handed the Bucs baton to Super Bowl GM Jason Licht, who has been on one hell of a roll.
No, Licht didn't win with Dominik's players, or Lovie Smith's peculiar blessings of crappy football players. Team Glazer gave Licht a lot of rope and he climbed to the top of the mountain alongside Bucco Bruce Arians.
Dominik was asked on SiriusXM NFL Radio yesterday to go through the exercise of grading the Bucs' 2017 NFL Draft.
"Frustrating" is what Dominik called 2017 first-round pick O.J. Howard, specifically because of "injuries and drops."
Thankfully, Dominik was prepared and acknowledged the horrific car accident endured by third-round-pick linebacker Kendall Beckwith, who got off to a very promising start. And Dominik knew the rest of the cast of forgotten players.
Dominik wound his way to giving Licht and the Bucs a "C+" for the draft class because Chris Godwin "is that good" and it's always damn impressive to score a true No. 1 receiver outside of Round 1 of the draft.
Dominik was adamant that Godwin and impress observers with the size of his next contract following an excellent season in 2021.
Joe thinks the C+ grade is fair, even if O.J. Howard continues to be a bust. Godwin was that great of a pick, the 11th receiver off the board in 2017.