"I Think He Likes The Fact That We Tell Him Who We're Thinking Of Signing"
May 11th, 2021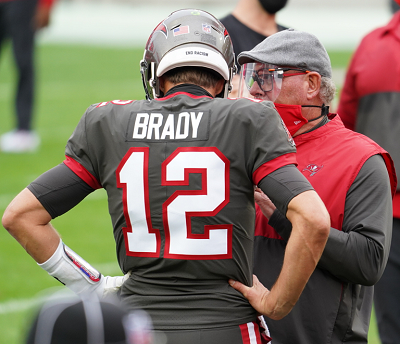 The "two-way-street" between Tom Brady and decision-makers at One Buc Palace when it comes to personnel decisions was explored yesterday for a national audience.
Rich Eisen was the guy probing Super Bowl Bucs general manager Jason Licht on Peacock. 
Eisen called it a "touchy" subject to be approached "gingerly."
Licht said there's nothing to dance around.
"It's a fair question, but he came to our team because of the great coaching that we have, the great head coach and the great players," Licht began. "He wants to play with great players. There's never been a conversation of 'you better get this guy' or 'well, we don't want that guy'. I've never talked to him about the draft. Bruce [Arians] and I did mention to him leading up to the draft that we may take a quarterback; we would do that with any great quarterback, let alone The Goat. But I hate to sound cliché, but he trusted in the plan that we wanted to bring everybody back.

And there were really never any side conversations about, 'How far along are we with this guy? What should I do? What can we do? Move on from him.' He's not like that. He's a great leader. He's got the players' trust and he trusts us."
Licht went on to clarify that Bucs officials keep Brady in the loop on personnel moves before they happen, and that Brady is eager to influence a potential signing. Brady reached out to Giovani Bernard and Leonard Fournette, Licht implied, to recruit after the Bucs brass gave the green light.
"I think he likes the fact that we tell him, you know, who we're thinking of signing every once in a while, particularly if it's going to help him on the offense," Licht said. "But in terms of having a meeting where we go over the board and talk about all of our plans. That's just not his style. He trusts us, like I said."
Joe believes Licht, but Joe also believes there's a lot of gray area when it comes to Brady's influence, especially in 2020.
Regardless, it all works beautifully, perhaps more perfectly than it has with any team in the modern era.