Bruce Arians: "Brady Became Fearless" On Deep Shots
May 8th, 2021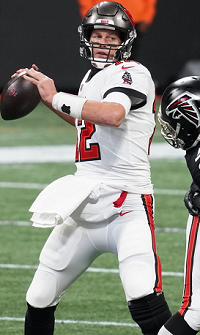 "Gunslinger" has not been an adjective used for Tom Brady very often during the majority of his career.
Understandable. Brady didn't always have quality deep weapons and he was extremely disciplined in throwing middle routes and to running backs.
But things have changed in Tampa. Brady is letting it fly. Bucco Bruce Arians talked about a Brady transformation this week on The National Football Show.
"When you look at the last eight games, we were pushing it down the field a lot," Arians said. "We had a good feel for the whole offense. And it's like, we can check it down, we can check it down, but when that shot's there, take it. Yeah, [Brady] became fearless at that. You know, going back to the end of the half at Green Bay –'I'm all-in on this call."'
Interesting stuff from Arians, implying that Brady evolved into the Bucs offense. And also in the interview Arians noted that Brady looked at the game "through a different lens" after being around Bucs coaches.
Joe is so curious to see how this translates to 2021. Yes, Brady will throw to the open man and use his running game, but it wouldn't shock Joe if Brady led the NFL in passing yards like he did in 2017.