Breshad Perriman Versus Antonio Brown
May 23rd, 2021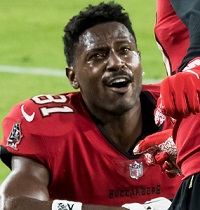 Joe loves learning more about the wide receivers factory that is our beloved Tampa Bay Buccaneers.
Only one Bucs assistant coach left the team after the glorious Super Bowl victory. That would be Antwaan Randle El. The former standout Steelers receiver and college QB took the Detroit Lions wide receivers coaching job, a step up from his time in Tampa under Bucco Bruce Arians.
Outspoken Randle El was talking to the Detroit Free-Press recently about the receiver he recruited hard for the Lions to pay $2.5 million in free agency this offseason: former Bucs WR Breshad Perriman.
Perriman starred for Tampa Bay when Chris Godwin and Mike Evans went down injured late in the 2019 season.
"He just kept showing up," he said "And when I say show up, I mean (when) it's time to make a play. At that time, he was our third wide receiver behind Chris and Mike in Tampa, and he just kept showing up like, we got to try and find ways to get him the ball because he kept showing up. Wide open here, wide open there. So that's what we kept doing .,,

""It's about really just figuring out ways to be able to get him the ball. One of his biggest attributes is speed and then his speed and height together, him being able to go up and get the ball, and then being able to keep the defender on one side and catch the ball on the other side. So he's proven to do that down the field, so with that vertical threat with his speed — it certainly helps him being able to run any of those underneath routes and he did a lot of that stuff in Tampa and even last year. That vertical speed that he brings certainly helps out."
Joe read this and thought for a moment about what the Bucs would have been like last season if they re-signed Perriman versus going with younger receivers before locking down Antonio Brown at midseason.
It's all moot, and Perriman was too expensive last season in free agency ($6 million to the bumbling Jets). But this year he was affordable and cheaper than Brown, who is five years older and coming off knee surgery.
Yes, this is the kind of thing Joe ponders on a late-May afternoon surrounded by Big Storm beer.