Brady And Bucs Offense Worked Out
May 25th, 2021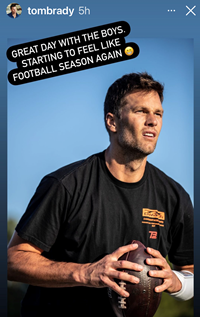 It was reported recently that Bucs quarterback Tom Brady made a passionate plea in a conference call to fellow members of the National Football League Players Association to boycott voluntary OTAs.
That didn't mean Brady wasn't going to work.
Maybe a three-minute drive away from One Buc Palace on Monday, at the New York Yankees minor league complex located just south of The Licht House along Himes Avenue, a private version of OTAs was led by the park-violating, home-invading, NFLPA-ignoring, down-forgetting, handshake-stiffing, jet-ski-losing, biscuit-baking, tequila-shooting, smartphone-phobic, waffle-grilling, trophy-throwing, roller coaster-scared, numbers-rules-peeved, Bucs-Super-Bowl-winning quarterback.
Based on Brady's and other teammates' social media accounts, it appeared at least nine offensive players other than Brady were at the workout.
Just from what Joe noticed on Brady's Instagram stories account and other players' social media, the gathering included but was not limited to Ronald Jones, Justin Watson, Giovani Bernard, Cam Brate, Blaine Gabbert, Chris Godwin, Rob Gronkowski, Tyler Johnson and Ryan Griffin.
Playoff Lenny — from his own Instagram account — was working out somewhere undisclosed with Bills wideout Stephon Diggs. No word on Mike Evans, but at Bucs coach Bucco Bruce Arians' foundation golf outing, Evans had said he was just waiting on Brady's call to join a workout.
Antonio Brown flew to Tampa late yesterday afternoon and it appeared he was playing some sort of board game/cards with an associate on a private plane. Last night Brown posted an Instagram stories video of him getting his legs rubbed down. (Preparing to workout today?)
So even though Brady wants his NFLPA brothers in arms to stay away from their teams' OTAs, that doesn't mean Brady is going to loaf on his boat for a couple of days in the Gulf.
And yes, Joe will be at One Buc Palace today as the first OTA practice open to the fourth estate will be held this morning.