"The Smartest Receiver In The Room"
April 20th, 2021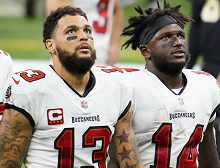 It only took a handful of months for Bucs fans to hear stunning praise after one of the drafts during The Lost Decade.
The year was 2017. Then head coach Dirk Koetter was calling rookie Chris Godwin a No. 1 receiver after drafting him in Round 3. And backup QB Ryan Fitzpatrick called Godwin the most mature rookie he had ever been around.
The love was especially noteworthy from two grizzled NFL veterans not prone to hyperbole.
Godwin proved them right, growing each season and adapting to different roles before landing in the Pro Bowl and winning a Super Bowl.
His wide receiver counterpart, 2014 Bucs first-round pick Mike Evans, opened Joe's eyes this week when he sort of flashed back to the Fitzpatrick-Koetter praise during a chat with TheAthletic.com.
"He's been more of a mentor to me actually," said Evans [of Godwin]. "He came in and from Day 1, he was the smartest receiver in the room. I'm very happy we got him back. He's a big part of our team and we love having him around."
Big praise there from Evans, and Joe doesn't doubt it for a minute.
As the 2021 draft approaches, Joe's taking a minute to savor what a draft score the Bucs had in Godwin four years ago.