The Bucs & Caleb Farley
April 4th, 2021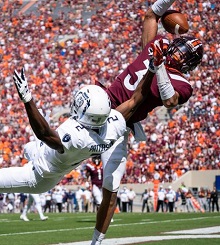 Remember when Super Bowl Bucs general manager Jason Licht said he was setting his draft board based on which prospects would be the best performers in 2022?
Joe does.
That's why Joe is taking a longer look at Virginia Tech cornerback Caleb Farley, a first-round talent who sat out last season because of The Sickness. In 2019, he was a first-team ACC cornerback with four interceptions and a lot of explosiveness in his 6-2 frame.
Following a weightlifting injury, Farley had minor back surgery on Tuesday and, per Farley, he may not be ready to go until August.
The injury situation — combined with not playing last season — likely will scare a bunch of teams that might have been considering Farley late in Round 1. But the Bucs don't have to worry about drafting a cornerback to start on Day 1, like they did in 2016, 2018 and 2019.
The starting secondary is returning and Licht can comfortably draft a guy like Farley if he believes he's the total package and will return to full health.
Joe remembers when Jaguars stud linebacker Myles Jack fell to Round 2 in the 2016 NFL Draft. Concerns about his ailing knee and his Day 1 readiness turned out to be misguided.
Jack didn't miss a game until his fourth season and is now earning quite a bit more per year than Lavonte David.
Farley could be that kind of freakish value for the Bucs.
Yeah, the Bucs have three young corners, but you can never have too much talent at the position.