The Bucs And Maybe A Quarterback
April 21st, 2021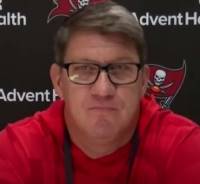 Joe has long maintained that the Bucs suddenly became the ideal lab to groom Tom Brady's successor the day they signed the park-violating, home-invading, NFLPA-ignoring, down-forgetting, handshake-stiffing, jet-ski-losing, biscuit-baking, tequila-shooting, smartphone-phobic, waffle-grilling, trophy-throwing, roller-coaster-scared, Bucs-Super-Bowl-winning quarterback.
Between all the quality coaches and the kid observing how the very best goes about his business, Joe considered the Bucs' situation ideal to build a signal-caller.
It seems Bucs AC/DC-loving general manager Jason Licht agrees. But that doesn't mean he will draft a quarterback.
Recently, Super Bowl-winning coach Bucco Bruce Arians said he would not be opposed to drafting a developmental quarterback. Licht did nothing to throw cold water on Arians' quarterback comments, other than to offer that it has to be the right fit for all.
"Well, there are always pros in drafting a quarterback for us because of our coaching staff," Licht said. "You couldn't think of a better staff to groom a quarterback. … You just want to make sure you are not picking a quarterback just to pick a quarterback.

"You want everybody to be on board. The guy has to have the right mindset. He obviously has to be talented enough to throw the ball. But he has to be somebody we all feel comfortable with above the neck.

"There are always positives to drafting a quarterback if all of those things align."
So will Licht take a flyer on Davis Mills of Stanford or Kyle Trask of Florida, or gamble on another Jimbo Fisher quarterback pupil in Kellen Mond? Who knows? Of course, Licht didn't tip his hand.
Licht did add that, "There are no absolutes in the draft. You are rolling the dice on just about every pick."
---
DRAFT PARTY!
Your video invitation to Big Storm Clearwater, Thursday night, April 29! Giveaways, special guests, and more. Ira Kaufman and Joe will be in the house starting at 7 p.m.