Teddy Bridgewater Leaves The NFC South
April 28th, 2021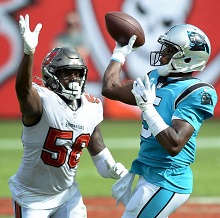 That didn't last long.
The marriage of Teddy Bridgewater and the Carolina Panthers has ended. The very average starting quarterback was dealt today to the Broncos for a sixth-round draft pick, presumably to unseat their very average (if that) QB Drew Lock.
Yes, life in the NFL really sucks when you don't have a good quarterback. (See The Lost Decade of Bucs football) Denver will hope Bridgewater/Lock will somehow win big in a division that features Patrick Mahomes, Justin Herbert and three-time Pro Bowler Derek Carr. Good luck with that.
Joe had kept a close eye on Bridgewater ever since he was lauded so much by Bucco Bruce Arians and was labeled as a likely Plan B if the Bucs didn't sign Tom Brady.
Joe actually is glad Bridgewater is out of the NFC South. Joe would much prefer a quarterback in his first season in a new offense (Sam Darnold) and one with less experience — in general and against the Bucs.