Steve McLendon Re-Signs; A Blow To Gerald McCoy's Shot
April 14th, 2021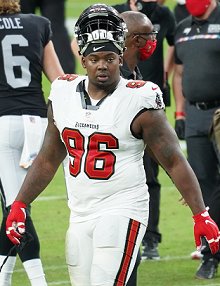 Another member of the Band of Bucs officially returned today, veteran defensive tackle Steve McLendon, the equivalent of a capable back-row clarinetist in the One Buc Palace orchestra.
McLendon was acquired in an October trade with the winless Jets and made national headlines for actually playing with the Jets on the Sunday after the trade already was agreed to but not official. McClendon, 35, told CBS Sports Radio that his unique decision was about "morals" and wanting to be beside his Jets teammates after a strong week of practice.
Talk about a team player!!
The Bucs quietly got a guy who logged 25 percent of the Bucs' defensive snaps last season. It was exactly what Tampa Bay was seeking, a durable and reliable rotational player.
For those who missed it, six-time Bucs Pro Bowl DT Gerald McCoy was talking to TampaBay.com last weekend about yearning to play in 2021, and how he's busting his butt to make that happen and how he would be eager to fill a role in Tampa or elsewhere.
Joe suspects McCoy had to wince a little hearing of this McLendon news, the Bucs signing a guy older than him for the job he would have savored.
Congrats to McLendon and good luck, Gerald.