Not Sweating The Edge
April 13th, 2021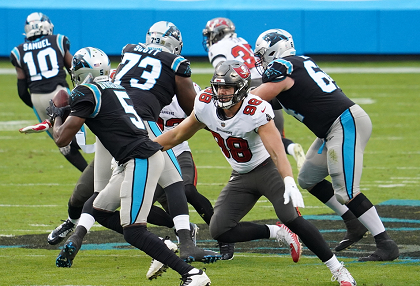 Hmmm, the Bucs could have invested millions into signing a backup edge rusher behind Jason Pierre-Paul and Bucs sacks king Shaq Barrett. But instead they signed a running back for a healthy stable of talented backs.
Don't get confused; Joe loves the Giovani Bernard signing. It is interesting, however, that the Bucs are looking to pile on what was a dominant offense over the last eight games of the season, rather than fortify a pass rush that doesn't have as much depth.
Is that a blessing for Anthony Nelson, the now third-year man seen in the photo above? Is there more love at One Buc Palace for Cam Gill than is commonly known? Is it a hint the Bucs will draft an edge rusher in Rounds 1 or 2, and plan to get that guy meaningful reps if he's up for it?
Joe just finds it intriguing that the Bucs' first major offseason move on the open market was at running back rather than along their defensive front.
And as Joe wrote earlier, is there still a valid offer on the table for Antonio Brown?