Bucs Join Boycott Of Spring Workouts
April 13th, 2021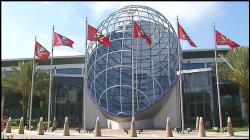 Bucs players became the third NFL team roster to join what appears to be a growing boycott of in-person voluntary offseason workouts at team facilities.
The Bucs' players are saying they will not work out at One Buc Palace this spring until The Sickness is under better control. Earlier today, the Broncos and Seahawks' players stated they would boycott voluntary in-person offseason workouts at their teams' facilities.
To be clear, this is the players, not the teams. The NFL has been negotiating with the NFLPA to set up a return to offseason conditioning (OTAs) and minicamps, just like normal years. These workouts at team facilities were dropped last spring thanks to The Sickness. Instead, virtual workouts were implemented.
Apparently, the rank and file NFLPA members don't like what the NFL is pitching for workouts at facilities. Below is a statement from the Bucs players as a group per NFL.com:
"NFL players across our league are a group of professionals who care about our jobs, our community and our families. We made a commitment to the organization, to Bucs fans and to each other that we would come back to try and bring another world championship to Tampa Bay," the statement read. "We know that our union worked to negotiate safety protocols, but in light of the ongoing pandemic, we are choosing to take a stand with other players across the league and exercise our right to not participate in the voluntary offseason program. We had a fully virtual offseason last year and we held each other accountable to do the work it took to win and we plan to do that again."
Well, Joe is on record saying that last year was proof of what Joe had been harping on for years: preseason games are only good for getting players injured. In the first season in modern NFL history without preseason games, the Bucs won the Super Bowl with a brand new quarterback.
And it seems the value of in-person voluntary spring practices are now in question by the NFLPA.
Bucs Super Bowl-winning coach Bucco Bruce Arians has railed against the loss of in-person workouts led by coaches, convinced it puts younger players at a major disadvantage in developing as professionals, or in making the final cut in September. Yet two rookies were critical cogs in the Bucs' run to NFL glory last season, Tristan Wirfs and Antoine Winfield. They had no in-person workouts at One Buc Palace last spring.
It appears young players and incoming rookies, at least for the Bucs this spring, may miss a second offseason series of in-person voluntary workouts at One Buc Palace.
Hello, Berkeley Prep?