Bruce Arians Expects Maximum Primetime Games
April 5th, 2021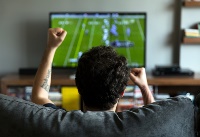 Last year when the NFL announced its 2020 schedule, Bucs fans were jolted when they learned Tampa Bay would play in five primetime games during the regular season, most in franchise history.
Why was it stunning?
Because Bucs fans were lucky if the NFL forced FOX, BSPN or NBC to broadcast a Bucs game in primetime once a year. But five? This is what happens when your signal caller is park-violating, home-invading, NFLPA-ignoring, down-forgetting, handshake-stiffing, jet-ski-losing, biscuit-baking, tequila-shooting, waffle-grilling, trophy-throwing Bucs Super Bowl-winning quarterback Tom Brady.
So recently when Bucs coach Bucco Bruce Arians did a spot on "Basketball and Beyond with Coach K" on BSPNU Radio, heard exclusively on SiriusXM with famed Duke basketball coach Mike Krzyzewski, the NFL broadcast schedule for 2021 came up.
And Arians told Krzyzewski he believes fans will get quite a few night games in 2021. The NFL plans to release the schedule in May.
Mike Krzyzewski: You being the Super Bowl champions, so when someone says you have a 17-game season, they are not all going to be played on Sunday afternoons. They'll put you in every damned time slot.

Bucco Bruce Arians: (laughs) We'll have at least six of them. I think that is the max. It will be an adjustment.
Well, unless something has changed that Joe cannot find with a rudimentary Google search, the maximum number of games a team can play in primetime in a regular season is five.
Arians previously discussed a 17-game schedule but opened up more about it with Krzyzewski. Arians noted he's going to have to monitor players' snaps in preseason and in regular-season practice a bit more closely than before, especially if the Bucs get an early bye.
"If it is a Week 6 or 7 bye, and you have 10 [weeks] to go, you are going to have to really adjust practice how much you are running and the number of reps in practice versus walk-throughs," Arians said. "There will be a fine line in three preseason games between how much you play each guy."
The positive for Arians, he said, is that all 22 starters are back so they already know what they are doing. As a result, snaps in preseason games can be dialed back for starters if needed.