Best Leftovers
April 30th, 2021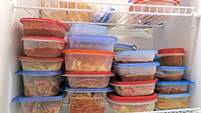 So the smoke has still not cleared from the first round last night. But what can we look forward to tonight in Rounds 2 and 3? Let's take a dive.
The following players are among the guys Joe would have been OK with Bucs AC/DC-loving general manager Jason Licht drafting last night. And they are still on the board.
Elijah Moore, Mississippi, WR: Fast as greased lightning and can play several receiver spots.

Nick Bolton, Missouri, ILB: Beastly tackling machine in the nation's best football conference.

Javonte Williams, North Carolina, RB: Breaks tackles and gets YAC.

Jeremiah Owusu-Koramoah, Notre Dame, ILB: Big, fast linebacker who is sort of a tweener not unlike Isaiah Simmons drafted last year (Cardinals). But that's OK. Joe trusts Bucs defensive coordinator Todd Bowles would figure out how to use him.

Levi Onwuzurike, Washington, DT: Big and versatile.

Jabril Cox, LSU, ILB: How can you go wrong with an LSU linebacker? They just know how to play football, that's all there is to it.

Creed Humphrey, Oklahoma, C: Started 37 games for one of the best offenses in college football, year after year. And Oklahoma is a very underrated school for offensive linemen.

Terrance Marshall, LSU, WR: What LSU linebackers are to pro prospects, so too are receivers at LSU.

Eric Molden, Washington, CB: Played in an NFL defense. Smart and physical.

Tyson Campbell, Georgia, CB: Tall, fast and played against some of the best receivers in college football each week. What's not to like?
(No, Joe does not include Rondale Moore, Landon Dickerson or Christian Barmore in this list. Moore and Dickerson are way too brittle for Joe's liking. Barmore has too many red flags for Joe; what can you say about a kid who is so cocky he left Hall of Fame defensive tackle Warren Sapp hanging for 90 minutes — late to a scheduled workout? Who does he think he is, Josh Freeman? If these three guys are on the board when the Bucs pick at No. 95 tonight, then OK. But not before.)
Last night speaking via Zoom with the local pen and mic club, Licht said he would not be opposed to trading up in the second round. However, he added, it would have to be the right price and the right player.