Antoine Winfield, Jr. Says Bruce Arians Was Angry About The Peace Sign
April 15th, 2021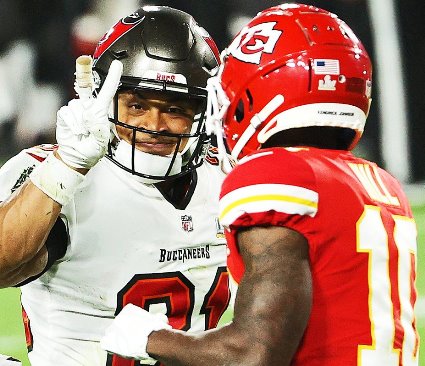 Joe's a big fan of the No. 45 overall pick in the 2020 NFL Draft.
The guy even managed to thrive without preseason games and spring practices. Imagine that?
Safety Antoine Winfield, Jr. opened up yesterday on the Behind The Mask Podcast and shared that his famous peace-sign flash to Tyreek Hill that put an exclamation point on the Bucs' Super Bowl win didn't go over well initially on the Tampa Bay sidelines.
Winfield revealed that he got chewed out by Bucco Bruce Arians when he came off the field because Arians thought the taunting gift-wrapped the Chiefs a first down. It didn't because it came after the turnover on downs.
"Coach was pissed," Winfield explained, noting Arians was fine once he realized the Chiefs wouldn't get the football.
Seeing highlights of Tyreek Hill dropping the peace sign for two weeks on ESPN after the Bucs-Chiefs November game really stuck in Winfield's craw, he said. But returning the favor to Hill wasn't planned, Winfield insisted, "just a heat-of-the-moment kind of thing."
Winfield shared other nuggets, including how he was crazy competitive with his NFL-cornerback dad growing up, finally beating him in a race when he was 17 years old and soon after was beating him in basketball and other sports.
No, Winfield is not troubled because he didn't win Defensive Rookie Of The Year. Winfield said Chase Young can enjoy it, as he got the Lombardi Trophy he wanted instead.
Interestingly, Winfield said the playoff win in New Orleans was sort of the moment he had deep belief the Bucs could win the Super Bowl, and Winfield added that the Bucs' confidence in practice before the Super Bowl — and on gameday — was like nothing he had ever experienced. He called it a "completely different mentality."
---
DRAFT PARTY!
Your video invitation to Big Storm Clearwater, Thursday night, April 29! Giveaways, special guests, and more. Ira Kaufman and Joe will be in the house starting at 7 p.m.