A Very Different Draft Year
April 8th, 2021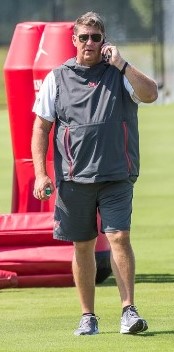 Joe has listened to many interviews of NFL Draft prospects, including Gators quarterback Kyle Trask yesterday, and there's a common theme that is different from past years.
The NFL Scouting Combine was cancelled for the first time in 2021, and that's where typically every single team makes contact with every single top prospect.
A quick but intense meeting in a hallway,  a longer hotel room meeting up to the league time limit — whatever it is, they meet and talk.
However, this year is a different animal. Joe keeps hearing prospects say they haven't talked to every team. Trask, for example, first told SiriusXM NFL Radio that he guesses he's talked to a majority of NFL teams, and then he stated the actual number was about 20. Joe's heard potential mid-round picks say they've only heard from a dozen teams.
Joe is gleaning from all this that front office's are relying more on film than ever before and putting greater value on their time to look at film than time talking to a prospect.
Also, the cancelled Combine dealt a serious blow to media accessing prospects and NFL executives, and the flow of information that comes with those in-person chats, so Joe is putting less stock into mock drafts than ever before.
What a great year to be in possession of a Super Bowl general manager who's returning an entire Super Bowl starting roster. Just imagine if this was 2013, Joe would be ridiculously stressed out.