What's The Value Of New Blood?
March 20th, 2021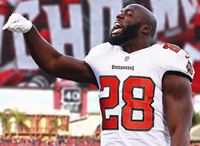 So many free agents arriving at many different times turned the Bucs around last season.
Throw the Rob Gronkowski trade in the mix, too, and two home run draft picks.
The new guys joined Tom Brady in changing the Bucs' sad culture. No longer was the stench of losing infecting One Buc Palace.
The injection of LeSean McCoy and Leonard Fournette no doubt lit an extra fire under Ronald Jones. Gronk and Tristan Wirfs raised the pass- and run-blocking standards along with Brady.
We even learned after the season that Antonio Brown was like having a second Brady. (Worth the read if you missed it.)
Now the Bucs are Super Bowl champs, content to bring back the entire band and hope for the same sweet music — and a few new singles in the draft.
Joe can't argue with the strategy, but Joe also has to wonder if the value of adding new blood to the building is underestimated. Sometimes fresh energy and hunger can be a critical piece of the puzzle.
It's rare to repeat. It's also rare to retain so many players from a championship team. In many ways, the Bucs really are treading into the unknown, though it remains unclear whether Leonard Fournette, Ndamukong Suh and Brown will be back. Joe's not going to cry if any of them leave.