Top-10 Gronk
March 1st, 2021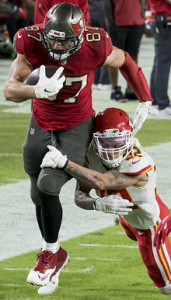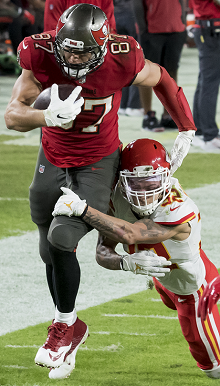 Would the Bucs have reached and won the Super Bowl without Cameron Brate?
It's a very unfair question.
But some form of that question might be on the minds of the power brokers at One Buc Palace.
Tom Brady love/Bucs Super Bowl hero Rob Gronkowski is a free agent in a matter of days.
Gregg Rosenthal, one of the big cheese analysts/editors at NFL.com, ranked Gronk as the 55th-best free agent about to hit the market. He cited Gronk in the top-10 among tight ends in yards (623) and touchdowns (7). And Bucs fans know well that Gronk delivered as a punishing and consistent blocker without missing a game last season.
So what's Gronk worth? He earned $9 million for the 2020 season, and the Bucs expect to be squeezed under a league-tightened salary cap (yet to be determined).
Brate and O.J. Howard are due north of $6 million in 2021. Howard is recovering from major Achilles surgery and it's unclear what the Bucs' commitment is to him before he passes a physical. Brate played for $4 million+ last season as part of a one-year restructure of his contract.
Joe suspects the Bucs and Gronk will reach a deal comfortably. But one could argue that mega-star Gronk has a ton of leverage, assuming Brady's happiness is paramount at One Buc Palace.