The Bucs And Henry Anderson
March 2nd, 2021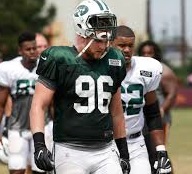 Joe has a friend who works in league circles that keeps pestering Joe about Henry Anderson landing in Tampa.
The Jets defensive end turns 30 before the 2021 season and is expected to be a salary-cap cut by New York soon. He's due about $8 million next season.
Now Joe can't speak to Anderson's game, but Joe's contact swears Anderson has plenty left in the tank and was a favorite of former Jets head coach Todd Bowles, architect and leader of the Bucs defense. Bowles traded for Anderson before the 2018 season.
And in that '18 season, Anderson was a versatile cog in Bowles' 3-4 scheme, leading the Jets with seven sacks and 16 QB hits in only 60 percent of the team's defensive snaps. Then Bowles got fired and Anderson's production nosedived.
Bucs Super Bowl starter Rakeem Nuñez Roches (an 11-game regular season starter) is a free agent and could get paid to be a starter somewhere else. Will Gholston has a lot of mileage on him as he enters his ninth NFL season. Ndamukong Suh's future is unclear.
Might the Bucs pounce on Stanford-grad Anderson (6-6, 300 pounds) if they're nervous about their D-line depth and he's willing to play on a cheap, one-year deal?