The Buccaneers' Customer Service Dynasty
March 26th, 2021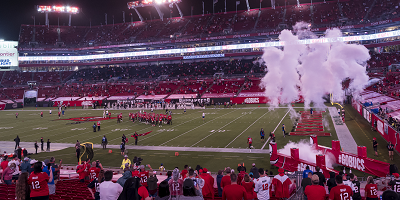 The Buccaneers treat their paying partners extraordinarily well, from the local dying newspaper and other media outlets, to the fans who buy all their tickets.
In fact, Tampa Bay recently won an incredible honor from the NFL for the seventh time in nine years.
Joe has written about this in past years, but it's always worth mentioning when the honor comes. After all, it's a title that tabs the Bucs as best in the business when it comes to serving their season ticket holders (aka season pass members).
The "W" comes from the release of the 2020 Voice of the Fan report, an annual league study of fans' opinions of their experience as season ticket customers, as well as at the stadium on gamedays. The NFL surveys thousands of fans across the league.
The Bucs also grabbed this customer-satisfaction title in 2012, 2013, 2015, 2016, 2018 and 2019. Joe is incredibly impressed. It was amazing to see the Bucs bring home the gold year after year despite the team having a brutal home record.
Now the Bucs' front office has a welcome new challenge ahead for 2021, defending their customer service title with more season ticket holders, more actual bodies in the seats and at the concession stands, and higher prices.