Shaq Shares His View Of Who Controlled The Offense
March 22nd, 2021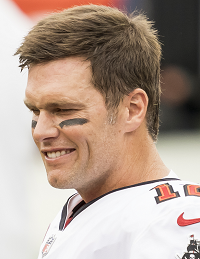 The fall debate raged for weeks across the national media, which claimed there was a 2020 tug-of-war between the offensive philosophies of Bucco Bruce Arians and Tom Brady.
Bucs fans remember the endless ramble. How much — or how little — was Brady in charge, and was he pissed off or happy about it?
Cris Collinsworth qualifies as national media. The Sunday Night Football game analyst and former Pro Bowl receiver also hosts The Collinsworth Podcast. Last week, Bucs sacks king Shaq Barrett was a podcast guest and Collinsworth demanded Shaq's take on whose offense the Bucs were running and whether Arians gave in to what Brady wanted.
Shaq had a firm opinion.
"So I think probably initially it was more B.A. offense; Leftwich calling the calls. And then towards the end of the year, I think they incorporated Tom probably like 50-50, because we did a lot of play-action, a lot of running, running, play-action over the top towards the end of the year," Shaq replied. "And then we still took our normal shots that we usually would take. So I think we found a perfect balance at the end of the year, but initially I think it was more B.A.'s system and then we slowly but surely started to work it toward balance."
So, does that mean Shaq thinks Arians' offense is a little out of balance? Of course, this matters little now because the Bucs offense averaged more than 30 points per game last season, including the playoffs. Whatever led to their December, January and February offense is a beautiful thing.
Still, Joe finds Shaq's perspective interesting. Joe liked when Shaq said "they incorporated Tom," almost like Tom is the name of an offense.