Shaq Barrett Says Bucs Delivered The Best Offer
March 16th, 2021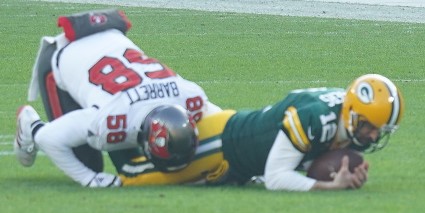 Bucs sacks king Shaq Barrett will be gobbling up $36 million of Team Glazer loot over the next two seasons (hallelujah!) and he was talking about that today.
Joe took notes.
*"It was pretty much Tampa, Tampa and Tampa," Shaq told The Dan Patrick Show (SiriusXM Channel 211) when asked what team it came down to in free agency this week. … "Tampa was my Plan A and I'm happy I didn't have to get to Plan B. I did not get another offer that was better than Tampa."
*Shaq said he's going to stop renting and is house-hunting today in the Bay area, though it sounds like Shaq doesn't plan to make the Bay area permanent. He said "my home-home [is] in Colorado."
*A Tesla Roadster is also on his shopping list. For those wondering, that's at least a $225,000 price tag new.
*Asked if he was as drunk as Tom Brady at the Bucs' Super Bowl celebration, Shaq said he wasn't even close. "I wasn't sippin' no avocado tequila."
*Shaq is a hardcore Dallas Mavericks fans and says his all-time NBA starting 5 is Steve Nash, Allen Iverson, Kevin Durant, Dirk Nowitzki, Nikola Jokić. Shaq is a such a big Mavericks fan that he found a way to shoot hoops twice at the Mavericks' facility.
*Up next is a trip to Legoland and then his wife is having a daughter in April. When asked, Shaq said he would not consider naming a child after Tom Brady under any circumstances.
---
Enjoy today's Ira Kaufman Podcast, presented by Bill Currie Ford.