Salary Cap Flexibility Remains Via Chris Godwin
March 21st, 2021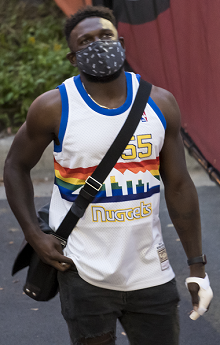 Once upon a time in 2015, Jason Pierre-Paul didn't sign his franchise-tag tender and, as a result, a few months later lost many millions when he blew digits off his hand in a brutal fireworks accident.
Talk about absorbing a bomb. The Giants rescinded the tag after the accident and JPP eventually re-signed for a lot less money.
Buccaneers receiver Chris Godwin won't endure that problem. Godwin actually signed the franchise tag the Bucs slapped on him two weeks ago. So a spring training injury, for example, would be unable to affect his contract status for 2021 — roughly $16 million guaranteed.
But it's important to remember that $16 million all counts against Tampa Bay's 2021 strained salary cap situation, so it also represents opportunity.
If the Bucs work out a long-term deal with Godwin before July 15, the tag offer would be shredded and some of the 2021 cap charge could be kicked down the road, like the Bucs have done for many other players this month. Without a deal by July 15, Godwin must play this coming season on the tag.
Joe brings this up today because of the four-year, $72 million deal free agent receiver Kenny Golladay just signed with the Giants. Per ProFootballTalk.com, Golladay got a $17 million signing bonus, so his base salary is $1 million this year, and $40 million of the contract is guaranteed. That's the biggest free agent deal of 2021 for a receiver.
Godwin is two years younger than Golladay, and he's better than Golladay, who missed 11 games for the Lions last year with hip and hamstring issues.
Overall, the receiver market seems to be changing, with prices apparently dropping and better quality coming out of the college ranks.
Given the Bucs all-in mindset, and Godwin potentially eager for bigger guaranteed money, might Godwin and the Bucs agree soon on a Golladay kind of deal? That could be the cap tonic the Bucs' spreadsheets need to bring back Ndamukong Suh and Leonard Fournette, and maybe even Antonio Brown.
Joe's still holding out hope that the Bucs' Big 8 free agents can all return. Five are locked down, and Joe's feeling very greedy today.