Relive The Dream
March 23rd, 2021
BY IRA KAUFMAN
Like they say, tape doesn't lie.
The latest proof comes courtesy of NFL Films, which has documented Tampa Bay's championship quest in a riveting DVD available nationally today ($5 streaming rental or $13.00 purchase on Amazon). This 75-minute video is a treasure trove for Buc fans, a keepsake that will surely be replayed many times in households from Largo to Lutz.
Narrated by Philly broadcaster Scott Graham, this tale of the 2020 Bucs tilts predictably toward Tom Brady. The video provides previously unavailable footage of Brady's interactions with teammates on the sidelines.
The conversations reveal Brady's relentless drive and competitive nature. And you can see up close and personal just how much attention Brady's teammates, both young and old, pay to his directives.
If Brady's the star of the show, Devin White isn't far behind.
The game action, exquisitely shot, gives you a sense of White's startling closing speed. But beyond all those tackles, White is revealed as the inspiring leader of a defense that excelled in the postseason.
As early as Week 2, NFL Films cameras captured the moment when Carolina's Christian McCaffrey tells White that he's the best in the league at what he does. And it's no coincidence that McCaffrey has struggled against the Bucs since White was drafted in 2019.
The final 40 minutes are devoted to the postseason — and this is where NFL Films generates the most drama.
Their cameras focus on Washington rookie defensive end Chase Young, who entered the wild-card playoff round saying he welcomed a chance to face Brady. But when the teams met, Young was swallowed up by Donovan Smith. As the night progressed, Young had little to say and even less to show for his evening's work.
This was Smith's finest hour as a Buccaneer.
The following week at New Orleans, White tormented Alvin Kamara, one of the NFL's most versatile running backs. With the game in the balance, White tells a teammate on the bench that, "I'm gonna put the dagger in them."
Sure enough, White picks off a Drew Brees pass intended for Kamara and Tampa Bay advances to the NFC championship game.
NFL Films captures the moment Brady and Aaron Rodgers, two first-ballot Hall of Famers, meet for a post-game fist bump. When a crestfallen Rodgers tells Brady that he has a heck of a team around him, Brady is smart enough to know he can't argue the point.
A recurring theme is Tampa Bay's historic opportunity to play a Super Bowl in its home stadium. The concluding 20 minutes chronicles how the Bucs dismantled the Chiefs, led by Brady, Rob Gronkowski and a defense that hounded Patrick Mahomes from start to finish.
"We're coming to eat," Jason Pierre-Paul crows during the feast.
With the game well in hand, Mike Evans turns to KC defensive back Charvarius Ward and playfully says, "Y'all got a ring, it's our turn, bro."
A stunned Ward offered no reply.
And when the confetti came down at Raymond James Stadium, a battered Mahomes offered Brady his heartfelt congratulations.
"Hey, you're a legend," Mahomes said. "You're amazing."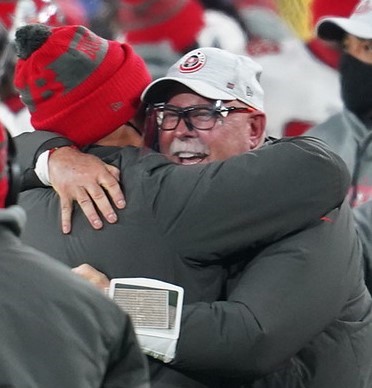 Producer Todd J. Schmidt and his staff have just provided Buc fans with a very early Christmas present. Before looking ahead to the draft, you can play this DVD and relive the glory of the 2020 season.
Share it with your friends and family. It's all here, 20 games worth of highlights and sound bites. You can hear Bruce Arians shout "boom" after Buc touchdowns and listen to the thud of a Devin White tackle.
And when the closing credits start to roll, you can replay the video again, right from the start.
Best of all? You know how this story ends.