No "Crazy Stuff" Or Ego Clashes
March 26th, 2021
BY IRA KAUFMAN
Admit it — you're in awe of what the Bucs have managed to accomplish during the offseason.
Well, there's 31 NFL teams that don't exactly share your ecstasy. In fact, they're downright pissed off.
It's been almost seven weeks since the confetti fell at Raymond James Stadium and Buc fans are still gazing at the heavens. With the help of some imaginative contract restructuring, Tampa Bay's most critical free agents are back to defend their Super Bowl title.
If the 2021 Bucs fail to repeat, it won't be because free agents walked out the door in an effort to cash in. And although Antonio Brown could sign elsewhere, his potential departure shouldn't be considered a crushing blow.
If Brown leaves, Tampa Bay could turn to Danny Amendola, who spent five years in New England with Tom Brady. And yes, Larry Fitzgerald is available for a meager return.
Remarkably, the gang's back together for another shot at the title. While Buc Nation rejoices, NFL history tells us defending a championship is risky business.
Nobody has gone back-to-back since the 2004 Patriots. Corey Dillon ran for 1,635 yards that season to complement Brady's passing attack, and the Patriots were a stunning plus-10 in turnover differential while winning three postseason games.
The 2003 Bucs felt darned good about their chances to repeat. Their only change on offense came at center, where John Wade signed as a free agent to replace Jeff Christy. The defense, buoyed by the return of Booger McFarland from a broken foot, lost only Super Bowl MVP Dexter Jackson, who signed with Arizona as a free agent.
No Flashback Ahead
That 2003 season started well enough with a 17-0 victory in Philadelphia, but injuries to Mike Alstott, Joe Jurevicius and Brian Kelly proved to be significant blows.
Brad Johnson threw 21 interceptions instead of 6. Martin Gramatica missed 10 of 26 FG attempts.
Crazy stuff.
The Bucs lost 12-9 to Carolina in OT, despite allowing only 87 yards through the air. The Bucs lost 38-35 to Indy in OT after leading 35-14 with five minutes remaining in regulation. Six giveaways led to a 17-14 loss against New Orleans.
Crazy stuff.
And don't forget about the off-field tensions that built steadily through the fall. By November, Jon Gruden was so fed up with Keyshawn Johnson that he told a still-productive receiver to stay home: you'll be paid but we don't want you around the facility.
You don't see that every day.
The rift between Gruden and Rich McKay became simply untenable. Gruden didn't think McKay worked hard enough and McKay couldn't stomach Gruden's constant whining about Tampa Bay's roster.
That kind of disconnect isn't going to happen here in 2021. Bruce Arians and Jason Licht work very well together. They see the game the same way and their egos are in check.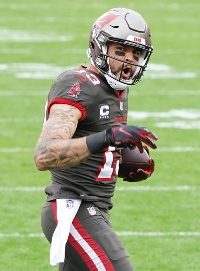 In temperament, Mike Evans and Keyshawn Johnson couldn't be further apart. Evans is all about the team. Keyshawn was all about Keyshawn.
Key injuries could derail the quest, especially if Brady is sidelined for a significant period. At the moment, however, it's hard to deny that the league's most complete team resides right here in Tampa.
The Bucs don't have a glaring weakness and the strength of this franchise is the commitment of the players. Friday's news that Leonard Fournette is returning offers yet another example of how this group approaches the challenge of repeating.
While the 2003 Bucs were finishing 7-9, Brady led the Patriots to a championship. While the 2004 Bucs were finishing 5-11, Brady led the Patriots to a championship. Get the picture? The man knows how to win and how to defend a title.
With or without Antonio Brown, the Brady Gang looks ready to rumble. The rest of the NFC South looks ready to stumble.
There are 31 NFL franchises suddenly looking up at the Bucs with admiration and envy.
Ain't life grand?