Low Mileage On James White
March 17th, 2021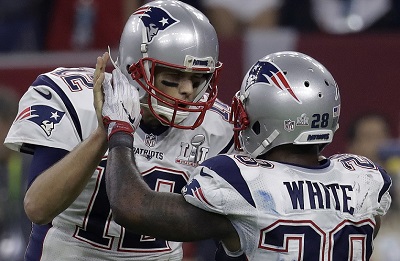 Through four NFL seasons, Leonard "Playoff Lenny" Fournette has 1,092 touches.
It's a workhorse number, especially for a guy who has missed his share of games with injuries.
Patriots free agent running back James White, three years older than Fournette at 29, has a grand total of 773 NFL touches. Both had about the same workload in college.
Of course, it's widely speculated that the Bucs are pursuing the former Patriots Super Bowl hero rather than their own Super Bowl hero.
It's interesting to Joe that White has so much less mileage on his body than Fournette. If the Bucs want to sign either guy, they likely will need to cough up two seasons of guaranteed money. And while the Bucs are all-in for 2022, the future is still a consideration and Fournette wouldn't be the first running back to decline once he hit the 1,000-touches mark (See Doug Martin.)
So why is White being let go by New England after the seven seasons — while the Pats are sniffing Fournette at the same time? Great question.
Joe thinks it mostly is about Cam Newton being back at quarterback, where he's an absolute third-d0wn machine. Newton rushed for 55 first downs last season, nearly all on third down; White is a third-down back. Fournette, of course, is a three-down back.
Joe would prefer a Playoff Lenny return, but White certainly is a sound fit in Tampa.