Liking The Rob Gronkowski Signing
March 19th, 2021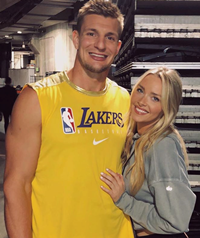 Who among us does not like the Bucs re-signing foot-rubbing, car-littering tight end Rob Gronkowski? There is nothing wrong with this move.
But second-best free agency play in the NFL? That's what a serial spreadsheeter thinks.
Folically-challenged Billy Barnwell of BSPN, one of the high priests of the spreadsheet crowd, decided to list his top-10 signings of the free agent season. And Billy believes the Bucs bringing back Gronk ranks No. 2.
… Gronk isn't the physical wrecking ball he was during his prime, but we just saw how effective he still is both as a blocker and receiver for the Bucs in 2020.

After taking the first quarter of the season to recharge his batteries, Gronkowski became a regular part of Tampa's crowded passing game. Over that time frame, he was fifth among tight ends in receiving yards (535) and tied for third in touchdowns (seven).
Again, Joe cannot argue with the signing. But No. 2? Bigger than tagging Chris Godwin? Bigger than re-signing Bucs sack king Shaq Barrett? Bigger than re-signing Lavonte David? Bigger than re-signing Ryan Succop?
And that's just the signings the Bucs made. Barnwell is including all 32 teams for his ranking. Joe finds that to be a tremendous reach. But Barnwell is right in that Gronk got better as the season wore on.
He was, as Bucs Super Bowl-winning coach Bucco Bruce Arians said, in "New England shape" early in the year. The way he played in the playoffs and the Super Bowl, that was the Gronk of old. He found his sea legs.
Another interesting thing Barnwell wrote: Park-violating, home-invading, NFLPA-ignoring, down-forgetting, handshake-stiffing, jet-ski-losing, biscuit-baking, tequila-shooting, waffle-grilling, trophy-throwing Bucs Super Bowl-winning quarterback Tom Brady was the biggest signing of 2020.
That's being kind. When is the last time a free agent had positively impacted an organization like Brady to Tampa Bay? Joe is guessing maybe not since Reggie White was signed by the Packers.
Of course, if Joe wanted to be an @ss, Joe would say Brady was the biggest free agent signing since Seattle inked Michael Bennett. 🙂