"I Don't Think It's Very Often That A General Manager Has The First Pick And The 32nd Pick"
March 14th, 2021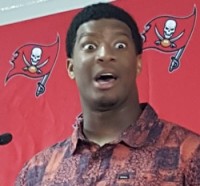 So many things about the last Buccaneers season popped eyeballs from St. Pete Beach to Sebring.
The stunning layers to the dream year — the wackiest season in NFL history — are almost endless.
Super Bowl general manager Jason Licht seems to appreciate the uniqueness of it all. Licht referenced his winding road to the top of the league — and joked about it — during his latest appearance on Slice, a video production funded by the Buccaneers.
"I don't think it's very often that a general manager has the first pick and the 32nd pick," Licht said. "You know, I guess that shows progress."
Licht went on to say that his unfamiliar draft position is exciting and fans should not underestimate its value. And he emphasized the Bucs have needs and could have more after free agency shakes out.
"I'm still excited about the draft. I'm still excited about picking No. 32. You know, we've picked some pretty good second-rounders in the past, especially last year with Antoine [Winfield, Jr.]. So that's the type of player you can hit on if you do it right, if the right player falls to you.

"In terms of our needs, even Super Bowl champions still have needs. It's not that you don't have needs; maybe your needs become a little bit less paramount. But it's all also going to depend on free agency here. Hopefully we can get all of our guys back. You know, picking the best available player is a good position to be in because those are the type of picks that usually have a higher-percent chance of making it and making an impact down the road. It may be two years down the road, but you'll think, 'Glad we picked that guy.' You may not need him right now, but at some point you will. So that's one of the exciting things about picking there at No. 32."
It really is wild to consider a GM having the first pick in the draft and then winning the Super Bowl without that first pick on the roster.
Has that ever happened?
As for the draft, of course the 2021 draft is critical. The Bucs have kicked so much salary cap cash down the road to re-sign their own free agents, so they need this 2021 draft to deliver if they want a successful club after the Tom Brady window closes.
---
Enjoy the latest Ira Kaufman Podcast! Presented by Bill Currie Ford.