Franchise Tag Deadline May Change
March 8th, 2021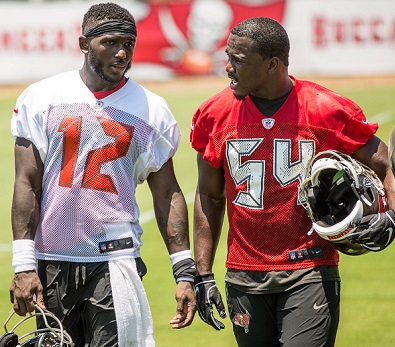 One reason only one team has slapped the franchise tag on a player this year is because the NFL has yet to finalize its salary cap for the 2021 season.
Some teams don't want to shop before knowing their budget.
The official NFL franchise tag deadline is tomorrow at 4 p.m. Will the Bucs tag Pro Bowl receiver Chris Godwin to lock him in for 2021, a one-year deal for top dollar? Or will the honor (dishonor?) go to Shaq Barrett for the second consecutive season, this time at roughly $19 million?
Perhaps Lavonte David or Ryan Succup will be the tag choice if long-term contract talks advance with Godwin and Barrett.
It's all a big Bucs mystery, but making things even more mysterious is the fact the tag deadline could shift, per NFL Network reporter Ian Rapoport. You can read his new Twitter report below.
Joe suspects if the tag deadline moves back because of the yet-to-be-calculated cap number, then perhaps next week's free agency opening (aka the start of the new league year) might move back, too.
What a messy, stressful time.
On the upside, a delay in the deadlines would mean the Bucs have more time to re-sign their own players.
Hammer out deals, Mr. Licht!
A storyline to follow going forward: If the official salary cap number doesn't come today and soon, NFL will have to move back the deadline to franchise tag players from Tuesday. It's a situation several GMs are bracing for and would further stall business for a bit.

— Ian Rapoport (@RapSheet) March 8, 2021