Donovan Smith: Once I Got Comfortable, You See What Happens
March 25th, 2021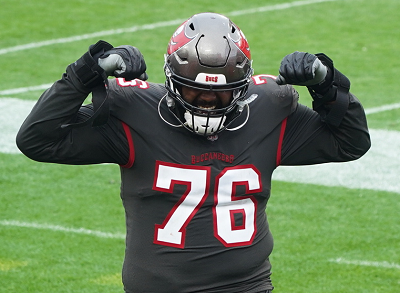 The secret to Donovan Smith's success is no secret, he explained today on radio.
Devoted readers of JoeBucsFan.com know all about how Smith went through a stance change last offseason, essentially a technical overhaul of his pass blocking. Offensive line coach Joe Gilbert, who handles tackles specifically, goes over that via the link above. But today Smith credited his beastly second half of the 2020 season on the switch
"For me it was just me working through, you know, changing my stances," Smith told WDAE radio of his improved play. "If people really watch, the way I played in [2019] was completely different to the way that I played [last season]. It was a big adjustment and really just finding that comfort [level] going out there. You know, once I got comfortable, you see what happens. So, yeah, that's really what it was, just figuring out my stance and how I play in pass protection and stuff like that, and adjusting those things and going out and playing and balling."
Bucs fans, welcome to great coaching and dedication!
Joe's real happy for Smith. Few things are as much fun as an athlete shutting up his detractors.