Devin White Says Antonio Brown, Media Motivated Him
March 20th, 2021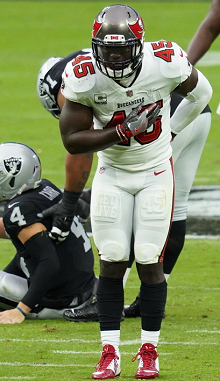 Savior Bucs linebacker Devin White, the heartbeat of the Bucs defense, had many layers of motivation during the Bucs' Super Bowl season.
A recent guest on 104.5 FM in Baton Rouge, White explained that naysayers and a couple of Tampa Bay newcomers really jacked him up.
First up — media and fans.
"I was still getting counted out this year with having like great numbers and stuff, It was like, 'Oh, he can't cover.' I'm like, 'Where is this coming from? Every time I do something good they find something wrong with it.'" White bellowed.

"So I honed in. Like, 'OK, I can't cover. Now I'm going to show you that my coverage is elite, too.' Like I gotta take it to whole another level; I gotta hone in on it. And I did that, and I started coming up with many more pass deflections, interception. I did it all at the right time. Like I was in the right spot at the right time and you know, that all started with practice."
White went on to say he also was super inspired by the practice effort he saw on the offensive side of the football.
"Man, you watch Tom Brady and Antonio Brown, watch how they get after it, more so A.B., man, he's one of the hardest practicing people I've ever seen in my life," White said. "And, you know, me and him are real good friends. So that just kind of boosted me up even more. Like, 'OK, like this is where you make yourself at out here on this practice field. And the game's going to really be easy 'cause you done put in the work at 100 miles per hour, so when you get in the game you're going to go 150 [mph] but you're going to do it the right way."
Thank you, Antonio Brown! The way White was a buzzsaw late in the season, after soaking in Brown's practice habits for a month, Joe suspects Brown really did make an impact on the young Bucs captain.
As for media and fans getting under White's skin by saying he struggled in coverage, well, he did struggle in coverage! So it's all good.
Joe can't wait to see what 2021 White looks like on the field.