"Damn Near Every Snap, That's What I Was Thinking"
March 2nd, 2021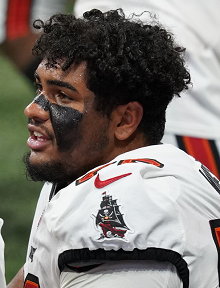 Sometimes, it's good to keep life simple.
Superstar Bucs right tackle Tristan Wirfs simplified life for himself all last season, so he explained recently on Hawkeyed With Dave O'Hara.
Host O'Hara asked Wirfs if he felt pressure to not be the guy that misses the block that ends Tom Brady's career.
"Damn near every snap, that's what I was thinking," Wirfs replied.

"…I love Tom, but he's 43 and I was like, 'I don't want to get him hit.'

"I think I put a lot more pressure on myself personally than I think other people were putting pressure on me. I didn't want to come in and not live up to expectations or anything like that. I was just trying to go out there and keep Tom safe, you know, that was pretty much my whole mindset going into games."
And that'll be a great mindset for Wirfs in 2021, and possibly 2022 and 2023.
Joe just excited to see how second-team All-Pro Wirfs improves next season. Some would say he doesn't have to.