Bryon Leftwich Gets In-house Praise For Simplifying Offense
March 10th, 2021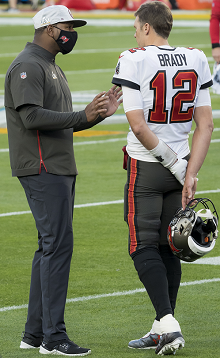 During the Bucs' glorious eight-game winning streak to close the 2020 season, Tampa Bay averaged 106.5 rushing yards per game.
That was a heck of a lot of balance for arguably the NFC's most dangerous passing attack.
But the Bucs weren't committed to the run early in the season like they were in those final eight games.
That fact wasn't lost on starting stud left guard Ali Marpet.
He talked to WDAE radio this week and praised offensive coordinator Byron Leftwich for listening to some players and making offensive life less complex — versus putting more attention into maximizing Tampa Bay's plethora of dangerous weapons.
"I think when you sort of simply it, which [Leftwich] did, which is just run the ball and then, you know, make it work after that, I think it makes things a lot easier," Marpet said. "And I'm glad we were able to find that rhythm.

"Obviously, there was a lot of guys that were pounding the table to run the ball. And I'm glad we were able to get to that later in the season, obviously."
Very interesting to hear Marpet speak of players yearning to run more. That may be a familiar and annual refrain from offensive linemen, but it sounds like it might have been something more last season, especially considering the Bucs' quality running backs and blockers.