Aqib Talib: Tom Brady Is The Only Pocket Passer That Can Win
March 2nd, 2021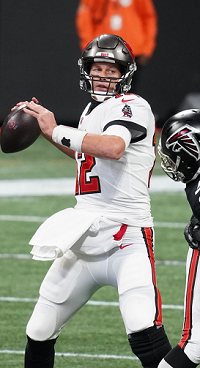 NFL offenses have steadily changed while Tom Brady keeps looking like a superstar quarterback from another generation.
He can pull it off. Matt Ryan, for example, cannot.

The days of the statue quarterback are over unless you're the Tampa Bay QB, says retired Bucs, Broncos, Rams and Belicheats cornerback great Aqib Talib.
Co-hosting on SiriusXM NFL Radio recently, Talib was talking about defending mobile quarterbacks and permanent changes to the QB position when he referenced Brady out of nowhere.
"If you're a sitting duck in that pocket, your last name better be Brady," Talib said. "If it's not, I don't know if you fit in this league no more. Tom about the only guy who still look like a world champion sitting in that pocket. You know he's not going to run and and he still can dice your team up."
Talib is on the money and it makes Brady's recent accomplishments more stunning.
As for Brady and other QBs forcing themselves away from the clubs where they made their name, Talib expects it to continue, in part because of what Brady pulled off.
Remember, Brady had a can't-franchise-me clause added to his final New England contract, one that made him a true free agent a year ago.
Talib said more name players are learning the business side of football, which includes being able to "Big Dog your way out" of a team. Talib explained that's how he got himself to the Rams, making it clear that he'd only play for the Rams, Cowboys or return to the Belicheats.