Ryan Jensen Almost Quit Football
February 2nd, 2021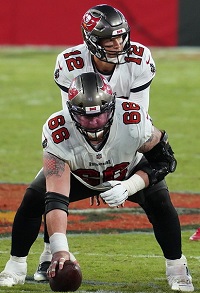 Now there's a real explanation of why center Ryan Jensen plays like an angry madman most of the time.
It's Super Bowl week, so the media spotlight is shining brighter and deeper on Buccaneers across the Tampa Bay roster.
This morning was Ryan Jensen's turn on national radio. The Bucs center was asked to talk about his NFL journey.
Jensen, speaking on SiriusXM NFL Radio, explained that he arrived on scholarship at Colorado State University Pueblo as a 6-3, 235-pound offensive lineman. As a freshman, Jensen was asked to play left tackle, and he said his first year was all about physical survival.
Yeah, it was Division-II, Jensen said, but he was undersized and playing literally felt like fighting for his physical life. He almost walked away from football after that season he said.
That experience led to Jensen's hyper-aggressive and physical game today.
"It was literally a survival mechanism for me," Jensen said battling as a small left tackle. "That nastiness stayed with me."
Encouragement came from college coaches and Jensen added weight. And then after junior year came a pivotal moment from an NFL team scout who was having trouble with struggling with a film setup and sought out Jensen.
"[The scout said, 'Hey, are you 66 on the film?" Jensen explained. "I go, 'Yeah.' He goes, 'Keep playing the way you're playing and you're going to have a real shot at getting at least and invite to [training] camp.' And, you know, that was a huge turning point for me."
The rest is history. Jensen was a sixth-round pick of the Ravens in 2013, and then Jason Licht made him the NFL's highest-paid center in 2018.